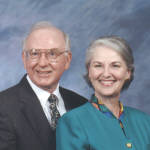 Larry & Judy McCune
Larry and Judy settled in the Sandhills of North Carolina after Larry retired first from Monsanto and then from Flexsys in Akron, Ohio. Flexsys is the world's largest producer of chemicals for the rubber industry. They now live on beautiful Lake Auman in Seven Lakes West, which is a gated community, near West End, North Carolina. During more than 40 years of marriage they have lived in many places: Lima, Ohio; Cincinnati, Ohio; Skokie, Illinois; St. Louis, Missouri; Oxford, Alabama, St. Louis again, Clear Lake, Texas and then Akron, Ohio. After visiting friends at Lake Auman in Seven Lakes West, they knew this was the place of their dreams - Lake Auman is by far the best and most beautiful place they have ever lived.
Both are very active in the West End United Methodist Church. They are members of the Seven Lakes Sailing Club. Judy has recently had a near full-time job managing the family health care. Larry is active in the Moore County Concert Band, the Sandhills Community College Jazz Band and the American Heritage Band.
Alberta McCune (Larry's Mother)
Alberta's husband, Gerald, passed away in October 2007. Gerald and Alberta were both born in Lima, met in Cridersville, Ohio, but worked, lived and retired in Lima, Ohio. Gerald worked many years at the Nickel Plate Railroad and then Ohio Steel - he retired form both. Alberta was executive secretary to the president of Webb Insurance when she retired. After retirement they moved to Indian Lake, Ohio where they lived for many years in Chippewa Park. In 2001, they decided to move permanently to Beverly Hills, Florida after many years of wintering in warm climates. In 2005 they moved to Quail Haven Village in Pinehurst, North Carolina. Alberta is now living at Elmcroft Assisted Living in Southern Pines.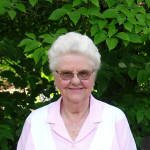 Marcele Fletcher (Judy's Mother)
Marcele and her late husband, Tom, grew up in Dunkirk, Ohio, but raised their daughter in nearby Lima. Tom's work with Commercial Carriers, an automobile trucking company, eventually took him from Lima to Cincinnati and then to Miami, Florida. In Lima they also owned and operated a Dairy Treet frozen custard stand. Marcele was also active in Stanley Products. After retirement they moved to Beverly Hill, Florida. Tom passed away in 2002. Marcele is the "bridge queen" of Beverly Hills. Gerald and Alberta lived across the street from Marcele before moving to Pinehurst, North Carolina.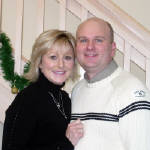 Brent McCune and Melanie Allen
Brent and Melanie recently moved from Greenwich, Connecticut where they both worked for Premcor, a large petroleum refiner. Brent was Director of Strategic Planning and Melanie worked in the Human Resources Department. When the company was bought, Brent became Vice President of Commercial Development for Western Refining in El Paso, Texas where he and Melanie now live. Since graduation, Brent has lived in Seabrook, Texas; League City, Texas; University City, Missouri; Beaumont, Texas; Clayton, Missouri and Greenwich, Connecticut. They also have a condo on Clear Lake, Texas. Brent plays clarinet and saxophone
David McCune and Amy Greer
David and Amy, and Amy's duaghter Candice, moved into a new home in Pflugerville, near Austin, Texas. David is currently a partner in a new, small computer business called Elite Computing of Austin. All of our family computers are custom built by Elite Computing. Amy is registrar at an Austin School. After graduation, David worked for a number of years with Acura in the automobile business in Houston, Texas. He then lived in Katy, Texas. Feeling frustrated, he went into the computer business with a school friend in Austin, Texas. They also own a musical instruments business called Austin Winds. David is an avid motorcycler and sports car enthusiast. He also plays guitar, trumpet and saxophone.
Maridith, Fletcher and Johnna McCune (Our Grandkids)
Our grandkids now live with their mother, Jamie, in Ashland, Missouri. All are named, first or middle name, in some fashion after grandparents or great grandparents. They are delightful young people and we enjoy having them visit with us and they truly enjoy swimming and boating at the lake. Fletcher is an avid football player and Dallas Cowboys fan. Johnna is playing flag football and is the only girl on the team. Maridith is on the track team.
he McCune Family Site - www.mccuneweb.com
November 27, 2007